Façade/Partition Panel Rock Wool, Acoustic
AIS ROC PRT FONO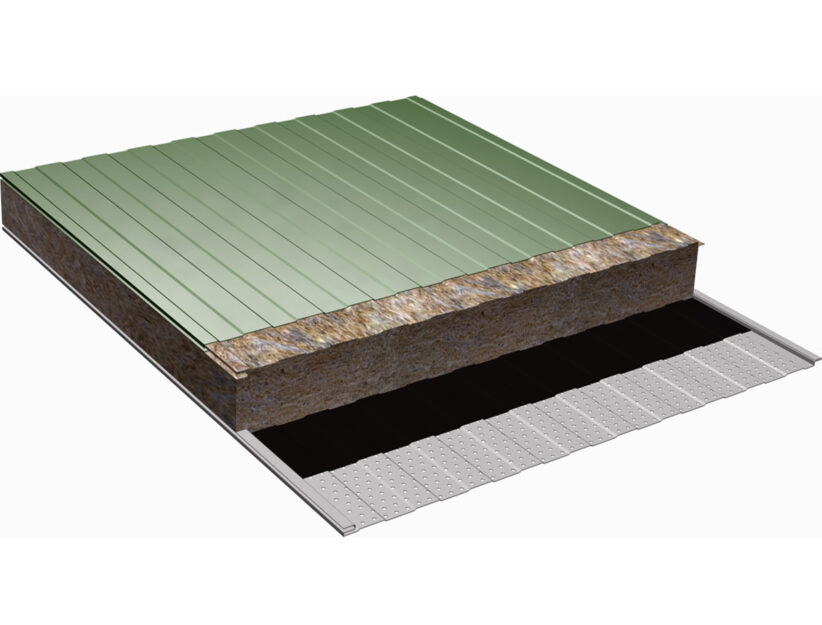 CHARACTERISTICS
Maximum length
9.600 mm
Useful width
1000 mm
Thickness
40, 50, 60, 80, 100, 120, 150, 200 mm
Thickness of the sheets
from 0.32 to 0.60 mm
Insulating material
Lamela M Rock Wool, density 100kg/m3
+/- 10%
Fire classification
Reaction A2-s1, d0, REI certificates on request

Navarra Green


Pirineo White


Ral 1015


Ral 9006

Consult other colors and characteristics.
The AIS PRT Wall Panel is a sandwich panel with symmetrical joints, consisting of two galvanized steel plates, a customisable finish and choice of colours and profiles and a perforated interior, bonded together in a discontinuous manufacturing process to a hard core of Rock Wool a density of 100 kg/m3.
The panel is designed for walls, partitions, façades and false ceilings, with or without any type of on any metal support. An ingenious lateral male/female system forms the symmetrical joint between two panels, enables fast union for walls that is watertight and aesthetically pleasing. The Rock Wool core is non-flammable and one of the best materials for sound absorption, and used in soundproofing to prevent reverberations in walls and false ceilings, and can be self-supporting.
We have all the auxiliary fasteners, screws and trims required for the AIS ROC PRT panel, either standard or custom.
As with all our panels, the AIS ROC PRT PHONO is customisable by selecting the type of cladding, colour and profile of the outer and inner sheets. Please see the technical data sheet for further information.